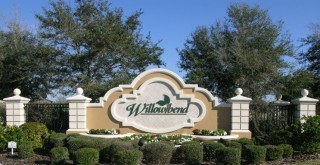 Willowbend is located in Osprey. It is about 10 miles south of downtown Sarasota and 6 miles north of Venice and is a short drive to beaches, boating, shopping, golfing and a host of other amenities. It is also close to medical facilities and several hospitals. There is a swimming pool, fitness room and playground within the community.
Willowbend is the State's first Florida Yards and Neighborhoods Community, meets Florida Power & Light's – Build Smart® requirements and is characterized by well-maintained homes and yards. It is bordered by Oscar Scherer State Park and is located in an excellent school district (Sarasota County: Venice High School and Laurel Nokomis School (Kindergarten – 8th grade). Additionally, Willowbend is very close to Pine View School, a Sarasota public school for the gifted.
Willowbend is a Deed Restricted and Maintenance Free community comprised of 275 homes, encompassing nearly 130 acres. Fees are very reasonable and range according to the size of the home. The Covenants, Articles of Incorporation and By-Laws and the Boards Rules and Regulations promote environmental and architectural harmony in the community in order to enhance property values and encourage cooperation with homeowners.
---
Willowbend Neighborhood Information
[srp_profile lat="27.177136″ lng="-82.475350″ address="Crane Prairie Way" city="Osprey" state="FL" zip_code="34229″]
[/srp_profile]